Téa Gonzales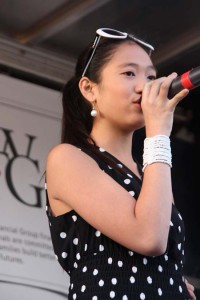 Ethnicity: Filipino and Canadian
Years of experience: 3 + years
Personal:
My education is an integral part of my life and success. I want to continually work at improving my vocal technique and stage performance skills.
Professional:
I want to release my first CD very shortly. I have my new original and a demo, and my next step is to have the full recording mixed and mastered. I want to take as many showcasing opportunities as possible so my name becomes better known. Cooper Studios have lined up many events in the future months for me, and I want the media to get involved, both radio and television. I would like to travel to cities such as Vancouver, Winnipeg and Toronto. I also want to become well known in the Filipino community in Canada and even the Philippines.
What is the highlight of your work?
Singing and performing live on stage.
Upcoming performances/projects:
The opening act for Filipino Concerts, such as Joey Generoso of Side A Band Concert on March 1, at Fantasyland Hotel and The Voice Kids Philippines with Mitoy Yonting Concert on May 31 also at Fantasyland Hotel, and many more.
Future goals:
Record my original single and book shows in Edmonton and other cities in Alberta, and do more charitable events.
Téa Gonzales bio
Téa is 12 years old and is currently in the seventh grade. She was born in Edmonton, Alberta, and started singing when she was just six years old. She has now been singing professionally for nearly four years, and has performed at numerous events in Edmonton and beyond, including singing the American and Canadian national anthem for the FC Edmonton soccer team of the National American Soccer League, and the professional lacrosse team, the Edmonton Rush.
Téa has also done many fundraising events, including the Relay for Life, CIBC Run for the Cure, and recently welcomed home Canadian soldiers at the Wounded Warriors event.
She performed at the Strathcona New Year's Festival and Edmonton's New Years Eve Celebration at City Hall, to ring in 2015.
Téa loves singing, entertaining and has a passion for music. She wants to continue her music lessons with Cooper Studios to pursue her singing as a full time career.
Search for Téa Gonzales on YouTube.