Manny Jacinto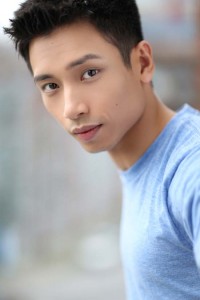 Manny Jacinto is a Vancouver-based actor and dancer trained at the city's most reputable acting and Hip Hop dance studios. His first big break came when he was offered a role as co-star in the Emmy nominated series, "Once Upon A Time." Other television credits included "Supernatural," "The 100," "Rogue," and "Untold Stories of the E.R."
Age: 26
Ethnicity: Filipino
Occupation: Performer
Years of experience: 6 years
Next Performance:
I have three projects set to release sometime in the fall and winter of 2014. One is an indie horror feature called "Peelers," directed by Seve Schelenz. The second is for FOX's latest thriller series, "Wayward Pines," starring Matt Dillon. Third is Peter Chelsom's feature film, "Hector and the Search for Happiness," starring Simon Pegg.
What is the highlight of your performance?
For my role in "Peelers," I was able to explore a character that was far out of my comfort zone. As my first horror feature, I was able to see all the magic that happens behind the gore and violence. For "Wayward Pines," I was surrounded by an all-star cast including Academy Award winner Melissa Leo and Academy Award nominees Terrence Howard, Matt Dillon, and Juliette Lewis. I was also able to act opposite Golden Globe and Emmy nominated actor Toby Jones. For "Hector and the Search for Happiness," the experience was surreal. After casting directors and producers searched all over Western Canada and the Sichuan province of China, I was offered a role in the film and was flown out to Kangding China. I was able to work with the hilarious and incredibly talented actor Simon Pegg.
Future goals as an Artist:
My short-term goals involve being able to work on larger projects with deeper characters, and working down in L.A. My long-term goals involve being able to inspire other performers, especially those of Filipino or Asian descent. It seems as though in Asian households, especially in families that have newly immigrated to North America, the idea of being an artist or performer is uncommon and sometimes even frowned upon. I want to be able to serve as an example to those who may feel they have a calling to act, dance, or sing, and hopefully one day inspire them to follow their dreams, just as I did.