Josette Jorge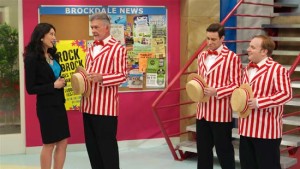 Ethnicity: Filipino-Canadian
Occupation and/or Company: Actress on YTV's The Stanley Dynamic which airs across Canada, and Co-Founder/Instructor at Ivy Speech Arts Academy in Toronto
Years of experience: Over 15 years
Personal & professional philosophy:
It was acting that got me out of my shell as a kid. I believe that the arts are a powerful tool not only for telling stories but to also make yourself heard.
Upcoming performances/ project:
I'm so excited about the premiere of The Stanley Dynamic Season 2. New episodes of the family-friendly series will start airing February 27th on YTV. I am also working on a cartoon called Ollie: The Boy Who Became What He Ate which will be airing on CBC soon. When I am not acting, I teach at Ivy Speech Arts Academy, an after-school program I run in Toronto with my husband. Later this year I will also be working as an acting coach on an upcoming TV series.
What is the highlight of your work?
Both my jobs as an actress and a teacher are incredibly fulfilling. I have to say the highlight is the people I get to work with. The cast and crew on The Stanley Dynamic are like a family to me.
Future goals:
During Season 2 of The Stanley Dynamic I shadowed our director Adam Weissman. It was an incredible experience and made me realize that I would love to explore more opportunities directing and working as an acting coach in future.